This weeks goals were to fix up any other bug I could find, and to add the final things of this map. Our current map 1 has had hundreds of changes / fixes / updates weekly for an entire month now. That's four weeks in a row. These posts will most likely slow down until our next map. But I'm of course not going to stop the updates.
Content Updates
Added Leaderboards to /spawn for various things.
Added a /playtime shop! Every hour you're playing the server, you gain a point. You can then spend these points in the shop. Along with a playtime top leaderboard, and end of map payouts for playtime.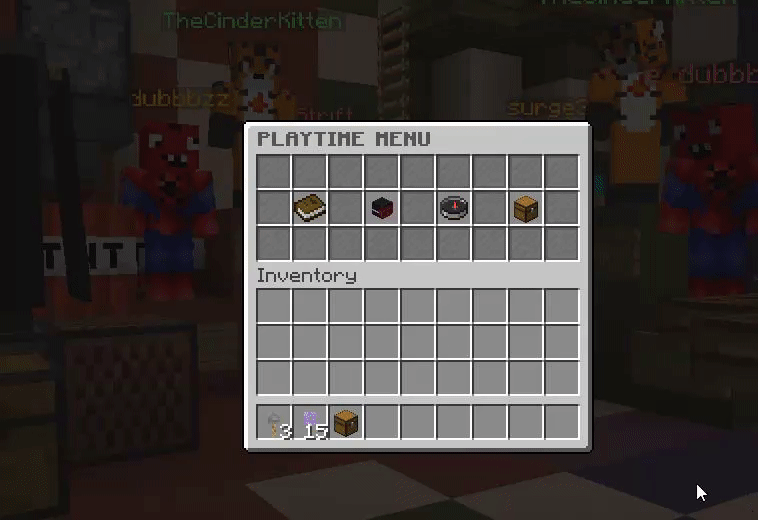 Added a PVP crate to spawn. I also buffed Space Crates in /warp pvp. Every time you open a Spacecrate, it has a 75% chance to give you a PVP Key, which allows you to open the crate for a chance at all the keys in the game.
Added monthly community challenges to /chal.
Added many hours of /autosell to vote rewards, and daily rewards.
Swapped out the vote links.
Battlepass rewards are now required to be redeemed via click, instead of automatic. This fixes a couple bugs with it.
Added /spacecrates command to check timer on crates.
Tons of staff promotions!
New Combat Logger, now had a HUD with player stats + anti run mechanic.
Key Generator pickaxe enchant now gives 1-5 Gem keys, OP Keys and more.
AM pickaxe enchant now gives 5 minutes to 30 minutes of AM time.
Added koth! I will start these at peak times.
Misc Bug Fixes & Changes
Fixed week 3 Battlepass missions.
Made Prestige 30 mine larger.
Fixed /Maxrankup Bug.
Fixed Prestige 34 / Prestige 35 Duplicate rewards.
Blocked the ability to craft workbenches.
Fixed typo in /crates.
Fixed some prestige rewards.
Fixed bug in prestige mine.
Fixed Prestige 50 warp.
Made prestige 35 mine larger.
Fixed crates error.
Fixed /playtime message.
Fixed error in PVP crate.
Allowed the ability to message in auto miner area.
I am so tired guys, I really really hope you enjoy all the work I'm putting in. I love how we're growing, and I won't stop. Looking forward to future growth!