I've just finished up week 1 updates, and will immediately be starting on week 2 updates. Below I will list all of the changes, fixes, and content added over the last week.
New Prestige Mines
I've gone through and added completely new prestige mines for almost every prestige. There is now a mine for prestige's 1 through 10. Along with mines for Prestige 15, 20, 25, 30, 35, 40, 45, and 50. The sell prices at these mines match every donator rank, and the later mines are even a lot better than any donator rank.
Below you can see images of these mines in exact order up to 10. Everything above prestige 10's mine will be a surprise.
Updated Prestige Rewards
I've gone through and completely redone the rewards for prestiging. Below you can find a list of notable things you can expect to obtain throughout your journey.
Every Pickaxe From the Server Store.
Over 500,000 Gems.
Over 300,000 Tokens.
Dozens of Every Single Key.
Huge Selling Multipliers.
Over 15 /tags.
Hundreds of Beacons & Sponges.
Premium Battle Pass.
Donator Ranks
And so so much more. Anything obtainable from our store, is now obtainable through prestige rewards.
Updated Selling Prices
Before, if you bought the max donator rank from our store it gave you the ability to have the best prices on the server. This is a very P2W aspect that we would like to stray away from. With that said, we've improved the sell prices at prestige mines to be over 3x better than our top donator rank. This is a very large step in an attempt to move away from P2W. We will be doing a lot more of this in the future.
New AutoMiner
Currently on the server, the only way to obtain auto miner was from crates or random rewards. It was quite rare to get, and overall not the best. We've redone it now so that every 10,000 blocks mined you will receive 10 minutes of basic auto miner. This means, once you spend the day mining, you'll be rewarded with enough autominer time to mine over night as well. The grind never stops, bro.
New Informative Hologram at Spawn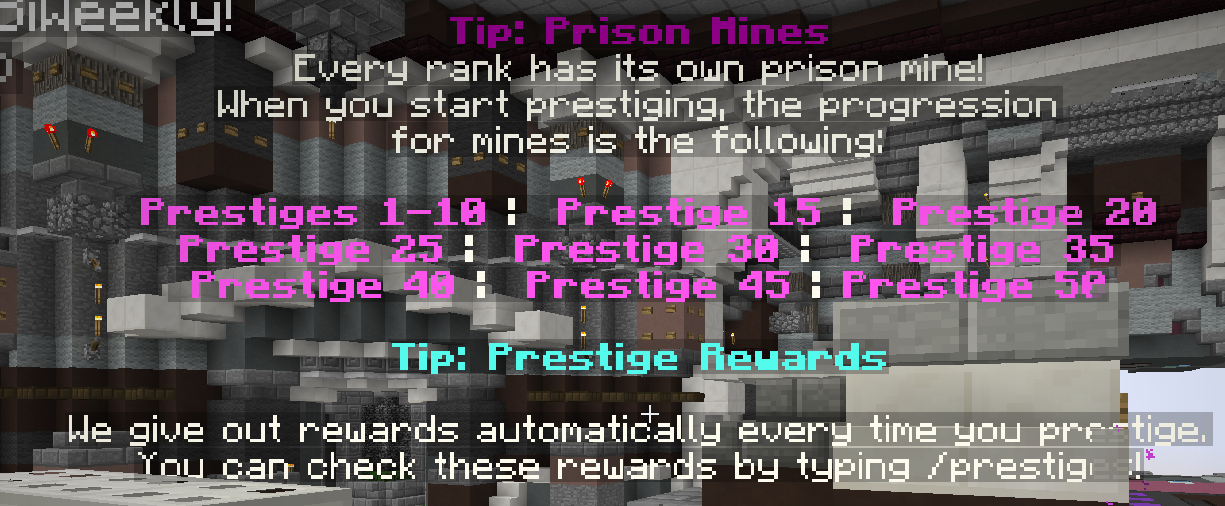 Bug Fixes and Small Other Quality of Life Updates
Added a shortcut for /warp prestige1-50. You can now use /p1-50 or /prestige1 to warp.
Added VoidSpawn plugin so you can no longer die from falling into the void.
Fixed typos in crates.
Merged the changelog and update log on discord.
Fixed typos in the prestige menu.
Fixed a few announcements.
Fixed some mine menus.
Updated pickaxe prices on our store.
Much more.
I really hope you guys enjoy this weeks updates. I've already started on week two's and they'll be ready to go very soon.